Hey everyone, welcome to another blog post where we talk with students from PyImageSearch. Today we are joined by Peter Ip, a Chief Data Scientist.
---
Ritwik: So Peter, maybe you could start by introducing yourself? What do you do, where are you, and what are your roles and responsibilities?
Peter: Hi everybody, I am Peter Ip. I worked in the IT industry and Analytics for over 15 years. 8 years ago, I worked as a consultant to develop a large-scale financial trading system for different top-tier investment banks and financial institutions. That is, they use AI, Big Data to make big money directly from financial markets, say foreign exchange, oil, financial derivatives, etc. In recent years, I worked as Chief Data Scientist for an IT service provider and consultancy firm, Big Data Hush. Its headquarters is in San Francisco, with different partners in major cities worldwide. My role is to provide data science solutions to different clients, including AI, Big Data, FinTech, Health-Tech, Blockchain, NFT, computer vision, advanced analytics on structured and unstructured data, cryptocurrency analytics and trading, etc.
---
Ritwik: How did you get interested in Computer Vision and/or Machine Learning?
Peter: Between 2011-2014, I was studying for a doctorate in computer engineering and got interested in machine learning principles and applications. At that time, most of my studies and research were related to structured data.
---
Ritwik: What does a typical day at work look like for you?
Peter: In 2015, I joined Pyimagesearch. After I had studied a few important chapters, I found a new job as Data Scientist for an IT service provider and consultancy. My duty was to provide various Data science solutions to enterprises in different industries, like finance, healthcare, agriculture, retail, etc., to develop AI systems in Video Analytics, Biomedical Systems, Speech-to-Text, Natural Language Processing, Blockchain, Facial Recognition, Voice Recognition, DNA analysis, and Manufacturing Automation, etc.
---
Ritwik: So, when and how did you learn about PyImageSearch?
Peter: In 2015, I happened to see Dr. Adrian's introduction to his education startup "PyImageSearch." When I first successfully ran an example of OpenCV on my laptop, I was amazed at how the code was so simple and powerful. This was my first time seeing how OpenCV and machine learning could apply to images and videos.
---
Ritwik: How has PyImageSearch helped you in your journey?
Peter: Actually, it changed my whole life. It opened my eyes and a new career path. Through the practical codes and application, I can easily extend the python program to other areas (e.g., AI, manufacturing automation, financial trading, etc.).
---
Ritwik: Is there any feedback for the team or something you would like us to do in the future?
Peter: Recently, I saw the latest tutorial introducing other emerging AI application areas such as Natural Language Processing. It is wonderful because this can be very helpful for extending our AI application areas and help us to compete in today's aggressive job market. Personally, I wish PyImageSearch would create an AI FinTech community in financial trading in the near future, that is, to use AI, machine learning, and trading algorithms to make money directly from financial markets, say foreign exchange. So top-tier investment banks can make a lot of money and offer high-paying jobs worldwide.
---
Summary
Ritwik: What would you like to tell someone who is just getting started with Artificial Intelligence, Machine Learning, Deep Learning, or Computer Vision?
Peter: PyImageSearch University is a brilliant path to the AI future. You may soon get high-paying jobs, or you can run your own startup. There are many possibilities if you acquire the essential knowledge through systematic training in AI and Machine Learning. So, I would strongly recommend joining PyImageSearch University. See you.
---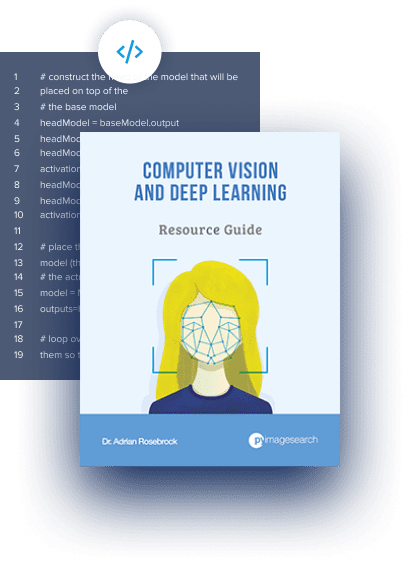 Join the PyImageSearch Newsletter and Grab My FREE 17-page Resource Guide PDF
Enter your email address below to join the PyImageSearch Newsletter and download my FREE 17-page Resource Guide PDF on Computer Vision, OpenCV, and Deep Learning.