PyImageSearch has grown tremendously over the past five years. What was once a small blog on OpenCV is now the go-to place to learn Computer Vision (CV) and Deep Learning (DL).
We have authored 350+ free tutorials on CV/DL, with a new tutorial publishing every Monday.
Currently, we offer four educational books/courses, with new CV/DL educational products releasing each year.
When PyImageSearch started, it was just me — and we only had one product. Our book and course offerings have expanded significantly since then, not only in quantity, but quality as well.
In order to manage updates to our existing content, as well as develop new content, we need a Technical Project Manager to provide expert oversight of the end-to-end project development process.
Job Details
Flexible hours – full-time and part-time options available based on skills and experience
100% remote
Compensation based on experience with option for performance-based bonus
Roles and Responsibilities
Manage projects with top-down oversight throughout entire execution of project to ensure success defined by adherence to standards of scope, budget, and timeline
Develop comprehensive end-to-end project plans that merge company goals with project deliverables, from ideation to implementation
Identify and implement project management software used to facilitate team projects
Identify potential problems/blockers and create solutions that unblock team and ensure progress is continuously made
Monitor project progress and make detailed scheduled reports on measurable milestones, deliverables, etc. that summarize project progress (including any foreseen problems)
Communicate proactively with all involved team members
Provide encouragement to team members
Create and implement processes and strategies for all team members
Identify areas where current processes break down causing problems
Organize processes such that they can be repeatedly executed with minimal complication
Establish, plan, and develop requirements and standards for scheduled projects
Assign and oversee daily tasks of team members while ensuring team member activities align with company milestones
Hold regular team meetings to address any questions or challenges regarding projects
Determine and define clear deliverables, dates, and roles/responsibilities for team members such that projects can be delivered on time and on budget
Update and maintain all internal team documentation
Skills and Requirements
Bachelor's degree in computer science, engineering, or related field (or equivalent work experience)
Master's degree in Project Management or related technical field preferred
Professional Project Management Certification from accredited institution preferred
Demonstrated understanding of Project Management processes, strategies, and methods
Experience mentoring, coaching, and developing talent within the business
Excellent time management and organization skills, and experience using these skills to establish guidelines for others
Strong sense of personal accountability
Managerial experience applying thinking and problem-solving skills
Strong team leadership skills
Ability to predict challenges and seek to proactively head off obstacles
Am I Right for This Job?
You are the right person for this job if:
You are a strong team leader who can coach others, helping them realize their full potential and obtain maximum efficiency
You are self-motivated
You take pride in your work, take ownership of tasks assigned to you, and relentlessly execute until the project is complete
You want to make an impact in the Computer Vision, Deep Learning, and Artificial Intelligence field
When Does This Job Start?
As soon as possible — I am targeting late-June/early-July as a start date, but I will be flexible if you have life circumstances that prevent you from starting then (you have to be the right fit for the job, of course).
How Do I Apply?
To apply for the Technical Project Manager position, use this link:
https://www.cognitoforms.com/PyImageSearch1/pyimagesearchtechnicalprojectmanagerapplicationform
Each time I've opened up a job position on the PyImageSearch blog, I've received over 400 applications. With this new position, I'm estimating over 1,000 applicants — get your application in early so I'll have more time to review it and carefully consider you for the position!
I'll be accepting applications until Friday, June 26 at 11:59PM EST, so make sure you get your applications in by then!
What Happens After I Apply?
After you apply, I'll be personally reviewing your application.
If I think you will be a good fit for the position, I'll follow up with you over email, ask any additional questions, and if necessary, setup a formal interview, etc. normally within 3-4 business days.
I promise to be considerate and not "leave you on the hook" — if you are not right for the position, I'll be sure to let you know within three weeks after the application period ends.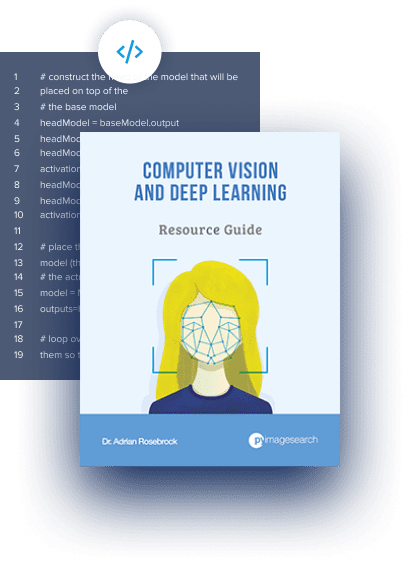 Join the PyImageSearch Newsletter and Grab My FREE 17-page Resource Guide PDF
Enter your email address below to join the PyImageSearch Newsletter and download my FREE 17-page Resource Guide PDF on Computer Vision, OpenCV, and Deep Learning.