Wow, the Kickstarter launch date of January 14th is approaching so fast! I still have a ton to do and I'm neck-deep in Kickstarter logistics, but I took a few minutes earlier today and recorded this sneak preview of PyImageSearch Gurus just for you:
The video is fairly short at only 1m08s and it's absolutely worth the watch, but if you don't have enough time to watch it, you can read the gist below:
0m07s: I demo face detection and recognition, which we will cover inside PyImageSearch Gurus.
0m16s: Practical Python and OpenCV will be offered in print as a Kickstarter exclusive reward. The book will be individually numbered and hand-signed — this will likely be the only time this book is offered in print!
0m23s: The PyImageSearch Gurus computer vision course will be 6-8 months long and entirely self-paced.
0m38s: I demo automatic license plate recognition, which we will also cover inside PyImageSearch Gurus.
0m45s: Join PyImageSearch Gurus and leverage Hadoop, Elasticsearch, and Accumulo to build large scale image search engines.
0m50s: Deep learning and Convolutional Neural Networks. Yep, they'll be covered too.
The Kickstarter will be going live on January 14th at 10am EST — I hope to see you on the Kickstarter backer list!
Like I said, if you have the time, the sneak preview is definitely worth the watch.
And I hope that you support the PyImageSearch Gurus Kickstarter campaign on January 14th at 10am EST — if you're serious about leveling up your computer vision and OpenCV skills, then this will be the perfect course for you!
I'll post another announcement tomorrow with the finalized list of computer vision topics you'll master inside of PyImageSearch Gurus. This is the big list , so you won't want to miss it!
To be notified when these announcement go live, be sure to signup for the Kickstarter notification list!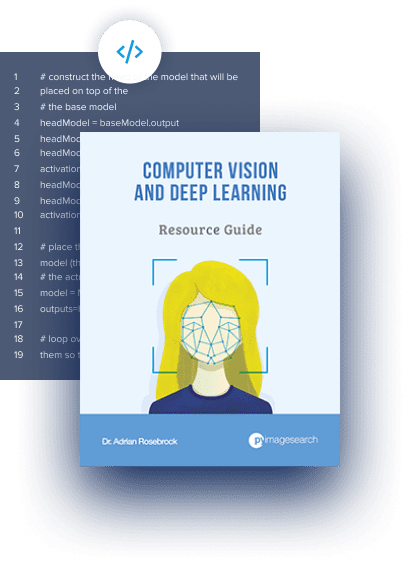 Join the PyImageSearch Newsletter and Grab My FREE 17-page Resource Guide PDF
Enter your email address below to join the PyImageSearch Newsletter and download my FREE 17-page Resource Guide PDF on Computer Vision, OpenCV, and Deep Learning.