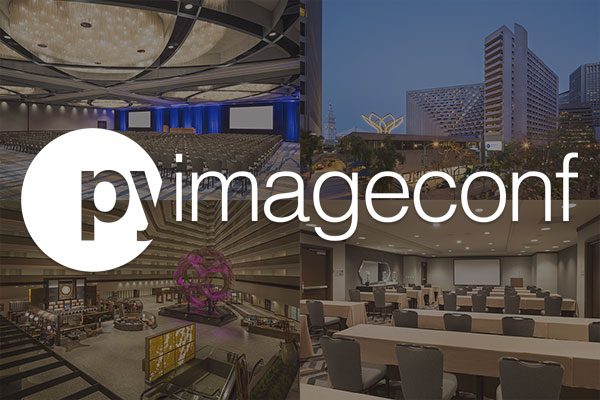 Today I'm pleased to announce the finalized details to an event I've been working on behind the scenes for quite some time:
PyImageConf 2018: The practical, hands-on computer vision conference
Imagine taking the practical, hands-on teaching style of the PyImageSearch blog…
…and translating it to a live, in person conference.
Sound interesting?
Keep reading to learn why you should attend PyImageConf.
When and where is the conference?
PyImageConf 2018 will take place on August 26-28th in San Francisco, CA at the Regency Hyatt.
Talks will take place in the Regency Hyatt's exquisite state-of-the-art ballroom
Workshops and breakout sessions will utilize the hotel's dedicated work spaces
Catered, sit-down lunch served each day (giving you plenty of time to network and socialize)
Evening events, including demos, presentations, socializing, and an open bar will also be included
Who will be speaking?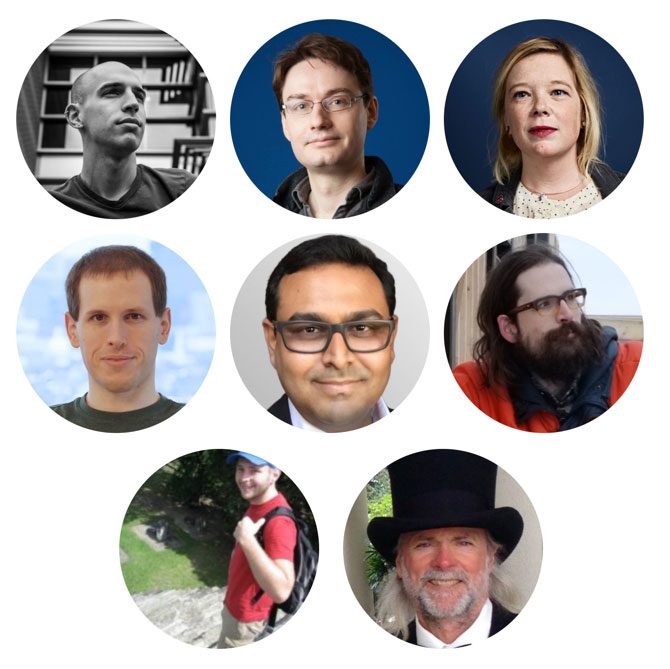 PyImageConf has put together the biggest names in computer vision, deep learning, and OpenCV education to give you the best possible live, hands-on training and lectures.
Each speaker is respectively known for their writing, teaching, online courses, and contributions to open source projects.
Right now there are eight confirmed speakers and workshop hosts with more to be added later:
François Chollet: Author of Keras deep learning library. Deep learning and AI researcher at Google. Works published in CVPR, NIPS, ICLR, and others.
Katherine Scott: Image analytics team lead for Planet Labs. Expert in satellite image analysis. Former co-founder of Tempo Automation and Sight Machine. Co-author of SimpleCV.
Davis King: Author of dlib library. Expert in object detection. Open source developer and practitioner building industry CV systems for over a decade.
Satya Mallick: Author and creator of LearnOpenCV. Computer vision for faces expert. Entrepreneur working in CV and ML.
Joseph Howse: Author of six computer vision/OpenCV books at Packt Publishing. Computer vision and consulting through his company, Nummist Media. Expert in augmented reality, virtual reality, and infrared computer vision systems.
Adam Geitgey: Author of Machine Learning is Fun! blog series, LinkedIn Learning, and Lynda.com. Loves building products with machine learning and computer vision.
Jeff Bass: Raspberry Pi hacker, computer vision practitioner, econometrics wizard, 35 years experience in statistics.
Adrian Rosebrock: Author and creator of PyImageSearch.com, Practical Python and OpenCV, PyImageSearch Gurus, and Deep Learning for Computer Vision with Python. Computer vision entrepreneur.
Who should attend?
You should attend PyImageConf if you:
Are an entrepreneur who is ready to ride the computer vision and deep learning wave and build new products/apps
Are a student unsure of your career path, but ready to explore computer vision, deep learning, and AI
Are a computer vision hobbyist who loves building new projects and tools
Are eager to learn from the top computer vision and deep learning educators
Enjoy the teaching style of PyImageSearch and want personalized, live, in-person training
If this sounds like you, rest assured, this conference will be well worth your investment of time, finances, and travel.
How many tickets will there be?
PyImageConf will be small and intimate, capped at 200 attendees.
I am purposely keeping the conference small to enable you to:
Better learn from speakers and presenters
Have laser-focused 1-on-1 time with experts in computer vision and deep learning
Better network with your peers and colleagues
Once tickets sell out I will not (and cannot) add more.
How much are tickets?
Tickets will cost:
This may seem like a lot, but keep in mind that your PyImageConf ticket includes:
Two full days of talks, workshops, and training
Catered lunch each day
Three evening events (including an open bar)
Most conferences would charge well over $1,500-$2,500 for this type of event.
My goal is to keep the cost as low as I can while ensuring we can keep the event small and intimate.
Take the time now to check with your work, spouse, kids, babysitter, etc. and earmark your funds to grab a ticket.
When will tickets go on sale?
Tickets will go on sale:
Friday, January 19th for PyImageSearch Gurus and early bird list (Gurus members will receive their link to purchase tickets a few hours early)
Friday, January 26th for general sale
At this point I'm not sure if there will be any tickets left by the time the general sale starts.
If you are interested in attending PyImageConf and want to a ticket please click the following link and join the early bird list:
Don't miss a chance at a PyImageConf ticket, click here to sign up for the early bid list.
Tentative schedule
To give you a feel for the effort and thought that has gone into PyImageConf I have included a (tentative) schedule of talks and workshops below:
Day 1: 26 August 2018
6:30PM-9:30PM: Registration – On site registration will be available beginning at 6:30PM in the Hyatt Regency atrium
7:30PM-11:30PM: Opening reception, socialization, and open bar
Day 2: 27 August 2018
7:30AM-5:30PM: PyImageConf talks – Doors to the Grand Ballroom will open at 8AM
7:30AM-11:00AM: Late registration
9:00AM: Adam Geitgey – Applications of Generative Adversarial Networks (GANs)
10:00AM: Satya Mallick – Computer vision for faces
11:00AM: Davis King – Training and improving your object detectors
12:00PM-1:30PM: Catered lunch in dedicated dining area
1:30PM: Jeff Bass – Raspberry Pi and computer vision
2:30PM: Joseph Howse – Virtual reality and augmented reality
3:30PM: Katherine Scott – Satellite image analysis
4:30PM: François Chollet – Deep learning
5:30PM: Adrian Rosebrock – Practical, actionable steps to launching a computer vision or deep learning startup
8:30PM-11:30PM: Networking, socialization, and open bar
Day 3: 28 August 2018
9:00AM-4:30PM PyImageConf Workshops
Workshops will include:

A guide to practical deep learning and computer vision
Computer vision for face recognition and other facial applications
A complete guide to training your own custom object detectors (including tips and tricks)
Augmented reality and virtual reality with computer vision
Raspberry Pi + computer vision projects
…and more to come!

9:30AM-12:00PM: Workshops Part I
12:00PM-1:30PM: Catered lunch in dedicated dining area
1:30PM-4:30PM: Workshops Part II
4:30PM-5:30PM: PyImageConf Wrap-up
8:00PM-11:00PM: Networking, socialization, and open bar
As you can see, I've put a lot of thought into putting this conference together and ensuring it will be the best computer vision + deep learning educational conference of the year.
Sounds awesome, what should I do next?
Tickets will likely sell out fast…ask any long-time PyImageSearch reader and they'll tell you how fast special events/sales like these sell out:
A few years ago I ran a Kickstarter campaign for the PyImageSearch Gurus course — all early bird specials sold out within 30 minutes.
In January 2017 I launched a second Kickstarter campaign, this one for my new book, Deep learning for Computer Vision with Python — all early bird specials sold out in under 15 minutes.
This past November I offered free NVIDA Jetson TX2s and Raspberry Pis to the first 30 readers who purchased a copy of either my books on Black Friday — all 30 were sold out in a little over 3 minutes.
I've never offered a live, in-person training program or conference like this before, but given there are only 200 tickets available I expect these tickets to sell out quickly.
In fact, I'm not sure there will be any tickets left after the early bird sale on Friday, January 19th (I wouldn't suggest waiting until the general sale on Friday, January 26th — you might miss out on tickets).
If you are interested in attending PyImageConf and want to a ticket make sure you click the following link and join the early bird list:
>> Click here to join the early bird list
It's going to be a blast! I hope you can make it.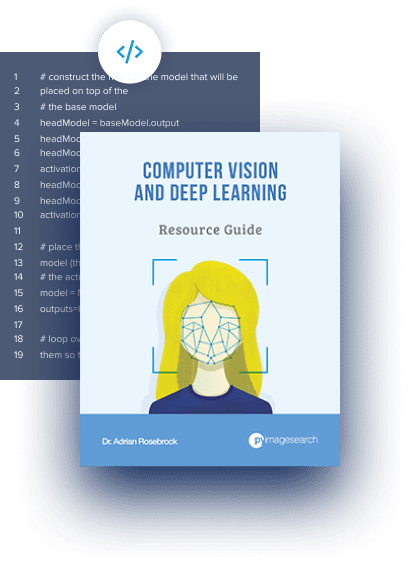 Join the PyImageSearch Newsletter and Grab My FREE 17-page Resource Guide PDF
Enter your email address below to join the PyImageSearch Newsletter and download my FREE 17-page Resource Guide PDF on Computer Vision, OpenCV, and Deep Learning.