I've got some exciting news to share today!
My Deep Learning for Computer Vision with Python Kickstarter campaign is set to launch in exactly one week on Wednesday, January 18th at 10AM EST.
This book has only goal — to help developers, researchers, and students just like yourself become experts in deep learning for image recognition and classification.
Whether this is the first time you've worked with machine learning and neural, networks or you're already a seasoned deep learning practitioner, Deep Learning for Computer Vision with Python is engineered from the ground up to help you reach expert status.
Inside this book you'll find:
Super practical walkthroughs that present solutions to actual, real-world image classification problems, challenges, and competitions.
Hands-on tutorials (with lots of code) that not only show you the algorithms behind deep learning for computer vision, but their implementations as well.
A no-bullshit teaching style that is guaranteed to cut through all the cruft and help you master deep learning for image understanding and visual recognition.
As a heads up, over the next 7 days I'll be posting a few more announcements that you won't want to miss, including:
Thursday, January 12th:
A sneak preview of the Kickstarter campaign, including a demo video of what you'll find inside the book.
Friday, January 13th:
The Table of Contents for Deep Learning for Computer Vision with Python. This book is extensive, covering the basics of deep learning all the way up to training large-scale networks on the massive ImageNet dataset. You won't want to miss this list!
Monday, January 16th:
The full list of Kickstarter rewards (including early bird discounts) so you can plan ahead for which reward you want when the Kickstarter launches.
I won't be posting this list publicly — this reward list is only for PyImageSearch readers who are part of the PyImageSearch Newsletter.
Tuesday, January 17th:
Please keep in mind that this book is already getting a lot of attention, so there will be multiple people in line for each reward level when the Kickstarter campaign launches on Wednesday the 18th. To help ensure you get the reward you want, I'll be sharing tips and tricks you can use to ensure you're first in line.
Again, I won't be posting this publicly either. Make sure you signup for the PyImageSearch Newsletter to receive these tips and tricks to ensure you're at the front of the line.
Wednesday, January 18th:
The Kickstarter campaign link that you can use to claim your copy of Deep Learning for Computer Vision with Python.
To be notified when these announcements go live, be sure to signup for the Kickstarter notification list!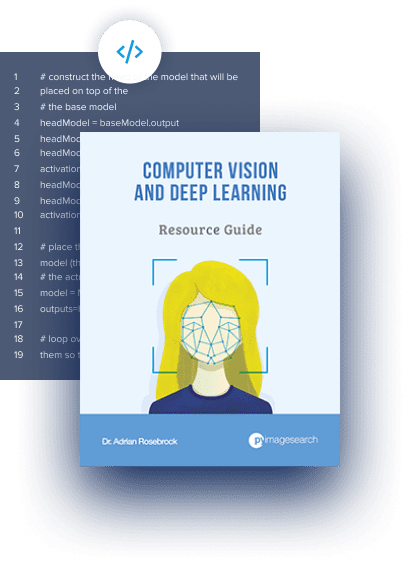 Join the PyImageSearch Newsletter and Grab My FREE 17-page Resource Guide PDF
Enter your email address below to join the PyImageSearch Newsletter and download my FREE 17-page Resource Guide PDF on Computer Vision, OpenCV, and Deep Learning.