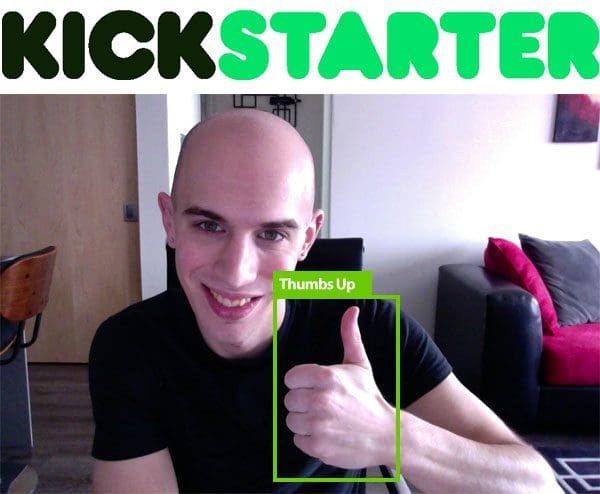 I need to apologize for this post — if there are some glaringly obvious typos on grammatical errors, I'm sorry.
You see, I just pulled an all-nighter.
My eyes are bloodshot and glazed over like something out of The Walking Dead. My brain feels like mashed potatoes beaten with a sledge hammer. And I really, really need a shower — for some reason I thought it was a good idea to start the hackathon immediately after getting back from the gym.
But before I pass out for the next 10 hours I wanted to post a quick update on the purpose of this all-night hackathon…
Yesterday, the PyImageSearch Gurus Kickstarter hit its first 1st stretch goal (building computer vision apps for your mobile device). And I needed to come up with a 2nd stretch goal. After a few minutes of beating ideas back and forth, it came to me:
Hand gesture recognition.
Hand gesture recognition is one of the most requested tutorials on the PyImageSearch blog. Every day I get at least 2-3 emails asking how to perform hand gesture recognition with Python and OpenCV.
And let me tell you, if we hit our 2nd stretch goal for the PyImageSearch Gurus Kickstarter, I will be covering hand gesture recognition inside the course!
So if you're on the fence about joining the PyImageSearch Gurus computer vision course, now is the time to do so! And with your help, we'll be able to cover hand gesture recognition inside PyImageSearch Gurus.
Remember, the doors to PyImageSearch Gurus will close in one week and won't open again until August.
There are still some seats left open in the course, so don't wait and miss out!
Act now and claim your spot in PyImageSearch Gurus before the doors close.
Course information:
80 total classes • 105+ hours of on-demand code walkthrough videos • Last updated: September 2023
★★★★★
4.84 (128 Ratings) • 16,000+ Students Enrolled
I strongly believe that if you had the right teacher you could master computer vision and deep learning.
Do you think learning computer vision and deep learning has to be time-consuming, overwhelming, and complicated? Or has to involve complex mathematics and equations? Or requires a degree in computer science?
That's not the case.
All you need to master computer vision and deep learning is for someone to explain things to you in simple, intuitive terms. And that's exactly what I do. My mission is to change education and how complex Artificial Intelligence topics are taught.
If you're serious about learning computer vision, your next stop should be PyImageSearch University, the most comprehensive computer vision, deep learning, and OpenCV course online today. Here you'll learn how to successfully and confidently apply computer vision to your work, research, and projects. Join me in computer vision mastery.
Inside PyImageSearch University you'll find:
✓ 80 courses on essential computer vision, deep learning, and OpenCV topics
✓ 80 Certificates of Completion
✓ 105+ hours of on-demand video
✓ Brand new courses released regularly, ensuring you can keep up with state-of-the-art techniques
✓ Pre-configured Jupyter Notebooks in Google Colab
✓ Run all code examples in your web browser — works on Windows, macOS, and Linux (no dev environment configuration required!)
✓ Access to centralized code repos for all 520+ tutorials on PyImageSearch
✓ Easy one-click downloads for code, datasets, pre-trained models, etc.
✓ Access on mobile, laptop, desktop, etc.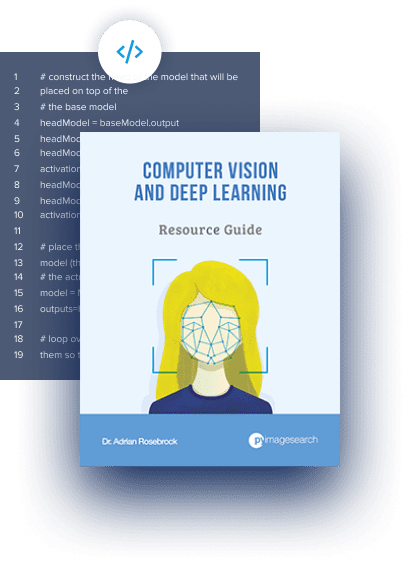 Join the PyImageSearch Newsletter and Grab My FREE 17-page Resource Guide PDF
Enter your email address below to join the PyImageSearch Newsletter and download my FREE 17-page Resource Guide PDF on Computer Vision, OpenCV, and Deep Learning.